EXIGO Management Consultants, LLC
EXIGO's mission is to collaborate with innovative healthcare companies to generate new revenue streams and optimize existing ones through information-based consulting on commercial challenges.
EXIGO's values are simple. Our business is helping our clients to build theirs. Thus, we are:
Truly dedicated to providing our best work on every engagement

Rigorous and transparent in our business practices and thinking

And we believe in healthy intellectual debate that enables our client's success
As a result of living these values, our clients describe EXIGO as:
"Professional"

"Rigorous"
"Thought-Provoking"

"Strategic"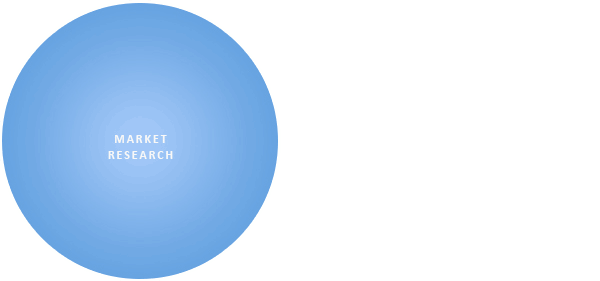 Tatical focus on informational needs.
Technique driven.
Survey research is the solution set.
Staff of research professionals.
Strategic focus on business issues
Expertise driven.
Strategy and implementation focus.
Staff of industry and issues experts.
EXIGO is the intersection of market research and management consulting.
We are unique in providing the excellence of strategic thinking found in high-end consulting firms with the excellence in research technique found in sophisticated marketing research firms.
In essence, we excel in information-based consulting.
Our business is healthcare
EXIGO participates across healthcare segments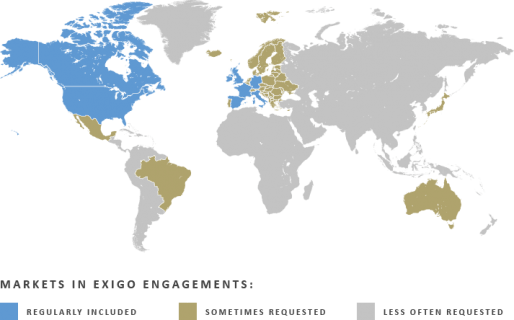 EXIGO has a broad scope of engagements
Levels of the Business Issue
Product, Franchise, Portfolio, Enterprise
Markets
Domestic, Global - Via a network of healthcare specialized partners in key markets
Therapeutic Areas and Customer Segments
Experienced in all therapeutic areas, including oncology, rare diseases and emerging therapeutics, and in wellness issues.
Address all customers from patients and caregivers to key opinion leading clinicians and scientists, health system executives to payers, vendors to senior management in industry.
Why EXIGO?
The reasons companies work with EXIGO are embodied in our process.
Thought partnership
All consulting staff are senior business professionals with substantial real world industry experience covering a broad range of expertise:
Consumer, pharmaceutical, and device products.
In market research, R&D, marketing, strategic planning, medical education, anthropology/ethnography, nursing and hospital finance.
We work collaboratively with clients to leverage our experience and expertise to the benefit of every engagement.
Perceptive identification of business issues
Leveraging knowledge of key client personnel along with our own.
Thorough analysis of all client and external information to ensure all possibilities are in the considered set.
Creative problem solving
Address each business issue in the manner that best meets client needs.
Multiple solution sets, including primary research.
Primary research that utilizes both traditional and more novel lines of inquiry.
Work collaboratively with internal teams and other agencies (e.g., specialized consultancies, advertising agencies, market research vendors, social media providers).
Impeccable execution
Expert in accessing challenging customer groups.
Exceptional expertise and experience in conducting qualitative research for deep customer understanding.
International partners extensively trained and closely guided by EXIGO consultants.
Utilize innovative technologies as appropriate to meet engagement needs.
Rigorous analysis and interpretation to yield insight
Committed to giving our best thinking and interpretation, grounded in experience and applied to new knowledge generated.
All analyses are based on 100% qualitative and quantitative data capture, not just notes or impressions.
The results and thinking are transparent to enhance ownership and internalization.
Analysis only by senior consultants who have the expertise to develop true insights, and, importantly to frame actionable business recommendations.
Candidly and respectfully presented.